Christmas Wreath Square is very beautiful and can be used for different types of work, such as quilts, table runners, blouses, etc. This type of work has drawn attention and in the most diverse types of drawings it has been very successful, especially this one with the Christmas theme. This is a crochet that can be done with ease and that, when joining the pieces, gives a very beautiful result. This type of work is highly valued, it requires attention and dedication, which are rewarded with a beautiful and charming result that you will love, you can be sure.
This recipe is simple and has a very nice square result. It's worth investing in pieces like this to compose your products for sale this Christmas. These pieces with colorful and delicate details draw attention for their beauty and delicacy that everyone loves. The quilts and quilts made of squares are increasingly drawing attention for their beauty and making a great success in craft sales.
Crochet squares are also called grandma's squares. They are those crochet washcloths. It can seem difficult when looking at work, we know that. But, with dedication, you will be able to create beautiful pieces using this technique that many love. Thank you for visiting our website. We always try to bring you the best.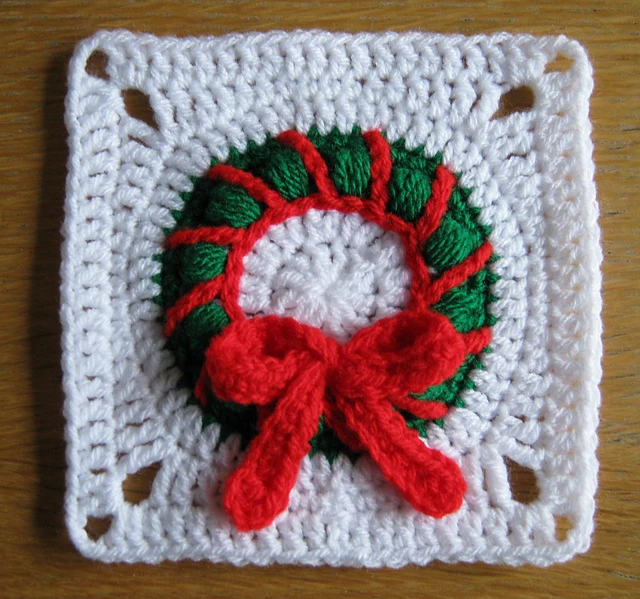 Christmas Wreath Square
Pattern/Tutorial/Images: Carola Wijma
For this square the author used a 3,5 (E) hook and Online Linie 50 PRIMA yarn. It's a DK/8 ply, 100% polyacrylic, 50
grams/150 meter(165 yards) yarn. Colors green and white and some red. For the red you can also use a mercerized
cotton or red Christmas ribbon.
The square is 5 ½ inches. I made one before with slightly thinner yarn and a 3 mm hook and that one was 5 inches.
Start with white yarn.
Rnd 1: in loop: Chain 3, 11 tr(dc) Slip stitch in 3th chain.
Rnd 2: Chain 3, 2 tr(dc) in every stitch ( makes 24 stitches). End with a tr(dc) in the base of the chain 3.
With green.
Rnd 3: Chain 3 and tr(dc) in same stitch,* Puff-stitch in next stitch, 2 tr(dc) in next stitch, repeat from * end with a
puff-stitch and a slip stitch in the 3th chain. You should have 12 puff-stitches.
PUFF STICK:
Yarn over, pull up the loop for 1 cm.
Yarn over, pull up the loop for 1 cm.
Yarn over, pull up the loop for 1 cm etc.
5 times in total.
Yarn over, make a stitch through all the threads on the hook.
One dc(sc) to finish the puff stitch.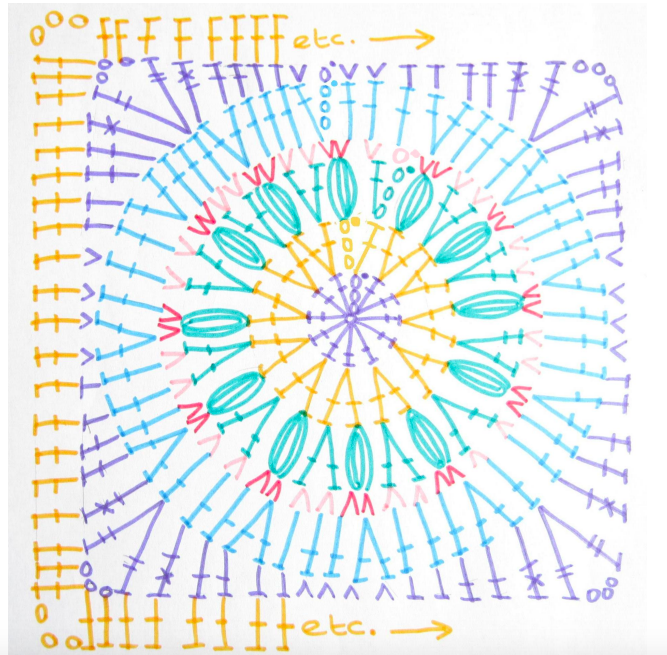 What does our team think of this pattern
Christmas Wreath Square, a beautiful square to decorate your pieces this Christmas, you can be sure that you will love this piece, it is very beautiful and you will love the result it will have in the environment and in your home, im Christmas design that you will definitely like it. This beautiful project can be used on several occasions, it will amaze your clients who will surely want one as well, which will help you a lot.