Cocktail Swimwear a beautiful piece for those who like to go to the beach and feel comfortable and stylish. The heat is coming and it's always great to be prepared with different and unique pieces to be successful. Beachwear continues with handicraft items as a trend, which is amazing. To make this beautiful crochet work you will need little material, but a lot of attention to the recipe and shared graphics.
Surely the final result of your work will be rewarding and this piece can be part of your products for sale, increasing your monthly income, which will help you a lot. Make a nice beach trip to accompany and complete a beautiful summer set. With the available graphics and all the material, you can start this beautiful Cocktail Swimwear to compose your summer products.
It's good to plan and leave pieces available for when the weather warms up and women start going to the beach or the pool. Here the color is just a suggestion, use your creativity and innovate in your pieces, try to know the color trends of the new season to innovate in your pieces.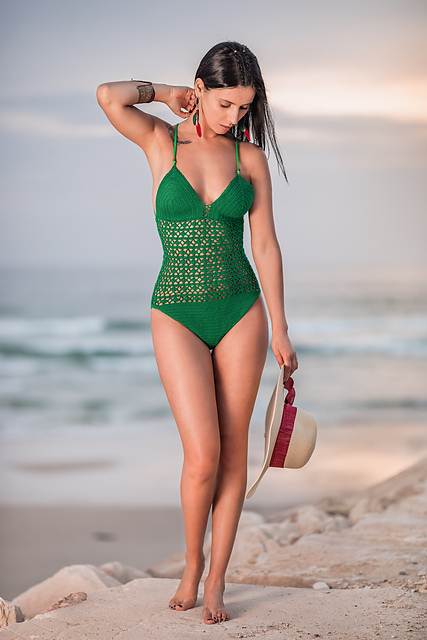 Cocktail Swimwear
Full Pattern/Images/Tutorial: Filipa Carneiro
YARN: 2 (2, 3) balls of Fine Cocktail from Rosarios 4, color 84 (50% cotton, 50% acrylic; 100g/330m).
GAUGE: 28 hdc and 22 rows – 10 x 10 cm in half double crochet stitch with 2.5 mm hook, washed and blocked (it's important to wash and block your swatch in order to get the correct gauge).
NEEDLES: 2.5 and 2 mm crochet hook (if necessary, adjust the needle size to match the gauge).
NOTIONS: Tapestry needle, sewing needle and sewing thread, lycra fabric with 10 cm long and 100 cm wide; 4 macramé wood beads; 50 cm lining for swimsuits.
SIZES: S, M, L.
FINISHED MEASUREMENTS: 67 (73, 79) cm at the hip; 17 (19, 19) cm high on the side up to the base of the cups; cups 15 (17, 19) cm wide at the base and 13.5 (15.5, 17.5) cm high (for the swimsuit to look properly, you must consider a negative ease, that is, choose the size with the measurements a little smaller than your current measurements).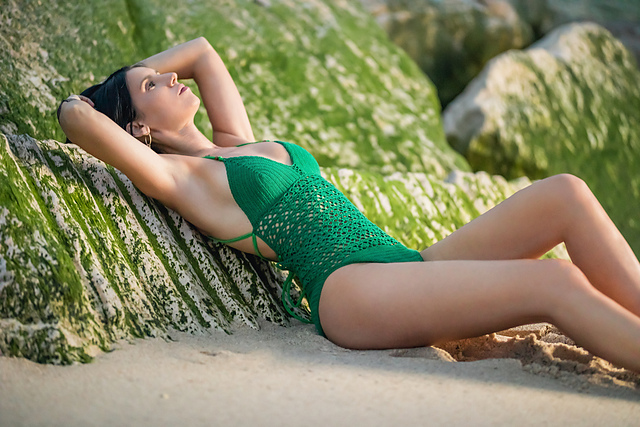 What does our team think of this pattern
Cocktail Swimwear, want a beautiful summer look to wear to a pool party or beach party? So come with us because we have an amazing piece that you are sure to love, it will guarantee an amazing look for you with a touch of style, I'm sure you will love this piece. This beautiful design can be used for various occasions and will amaze your clients who will definitely want one as well.