Loyal Heights Irish Chain Quilt
Loyal Heights Irish Chain Quilt, a wonderful and different work that should be done calmly and that has an incredible result that you will love for sure, believe me. In the bedroom decor, this quilt can leave everything with a different look that I'm sure you'll like, in addition to being very delicate. It's worth making pieces of this type that make us proud of our craftsmanship. The colors of your bedspread will depend on your taste. Choose your fabric according to the decor of the room you want to put it.
Practicing this type of quilt leaves the house always well prepared to receive your visitors, leaving it well decorated. It is an excellent choice of product for sales, this is a piece that will require time to be made but has an incredible result that pays off. Certainly when you do your job, you usually have many doubts about the best way to do a perfect job.
But with love and patience it is possible to do amazing and charming work. The quilt is the type of work that despite being relatively easy can require a little more patience when composing the piece, remember that. Thank you for visiting our website. We always try to bring you the best.
Loyal Heights Irish Chain Quilt
Full Pattern/Images/Tutorial: Kristin Esser
THE BASICS
The quilt is simply an Uneven Nine Patch block alternating with a plain block. Each block finishes at 6″ (6.5″ unfinished). You can see that more clearly in the diagram below.
The center square on the nine patches is 3″ finished and the corners are 1.5″ finished.
Fabric requirements:
2 5/8 yards of background fabric
Approximately 1 yard of print scraps or 5 FQs (I used a mix of 36 different prints)
The layout of the quilt is 9 x 11 blocks.
CUTTING
Here are the rotary cutting dimensions for the Uneven Nine Patch block (from EQ8). This is for ONE block.
You will also need 49-6.5″ x 6.5″ white (background) blocks.
TIP: Use the same background fabric in the Nine Patch blocks as in the alternating (plain) blocks. That way you can't see where the blocks begin and end.
STRIP PIECING CONSTRUCTION
I constructed the blocks using strip piecing–meaning that I sewed together a strip of a 2″ x WOF (width of fabric) of a print, to a 3.5″ x WOF strip of white, to another 2″ x WOF of print. Then I subcut them every 2″. That creates the top and bottom row of the nine patch. You will need 100 of these strips.
I did a similar thing for the center section of the block. I sewed together a strip of a 2″ x WOF of white, to a 3.5″ x WOF strip of a print, to another 2″ x WOF of white. Then subcut the strips every 3 .5″. You will need 50 of these strips.
Then I randomly laid out the strips into blocks and sewed them together. You need 50 Uneven Nine Patch blocks.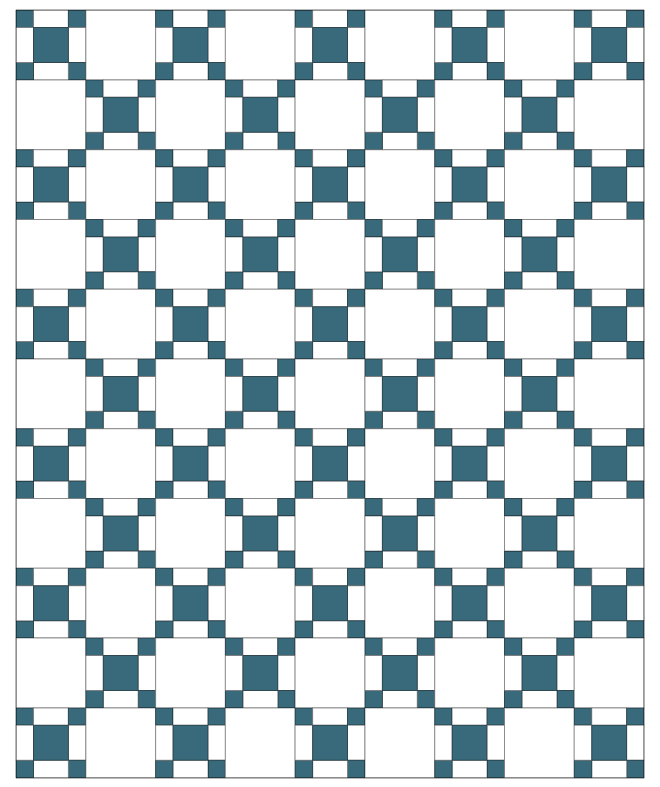 What does our team think of this pattern
Loyal Heights Irish Chain Quilt, quilting is an amazing technique that can help you get warm at night and decorate your home! You will love the result of this piece and it will be great for decorating. This beautiful Project can be used on several occasions, it will amaze your clients who will surely want one as well, which will help you a lot.