Meadow of Flowers with a beautiful stitch and beautiful colors that you will love and that has a very delicate and perfect final result to make the environment very cozy and beautiful with beautiful colors and incredible tones. With a beautiful tone, it is a perfect piece to decorate the environment because it has very beautiful and neutral colors that you will love. Comfortable and beautiful, it is very easy to make, which helps a lot and makes the piece faster to make. Crochet is very useful for decorative pieces that complete the look of the house with comfort, leaving everything very elegant, like this beautiful square full of small flowers.
The Meadow of Flowers crochet has been used more and more and is already part of the projects of many nowadays to give a very nice touch. Use your creativity and make a beautiful pillow with these blocks to combine with a blanket and add a nice touch of charm and good taste to your living room or bedroom. With little material and using your knowledge in crochet, following the tutorial carefully you can make this magnificent piece.
This is the type of crochet block that is very useful, because it is well made and with a very cute design that will give a stylish and beautiful look to your house and charms too, I'm sure you will love this beautiful ask. A product suitable for sales, so show your customers and friends, they will love the end result.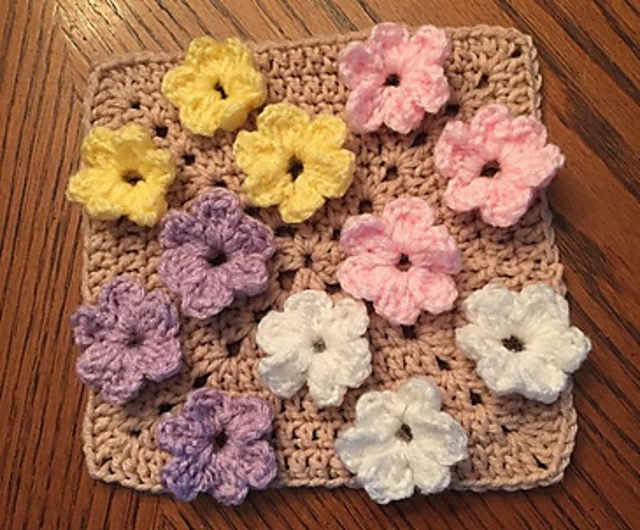 Meadow of Flowers
Pattern/Tutorial/Images: Drink Blanket
The pattern is for crochet modern design textured square Meadow of Flowers. In addition you get the same size solid granny square pattern. As you may ask if those flowers are added on top of the square? The answer is: no, they are crocheted as you go, it is not an applique.
It is a nice motif especially for crochet baby items: blanket/afghan, bag, pillow, scarf, poncho or some nursery decor. You can combine granny squares with flowers and solid ones or use just squares with flowers to create gorgeous result.
The pattern is appropriate for intermediate level crocheters. The beginners might try it as a challenge.
The pattern includes the detailed description in English and pictures to demonstrate more complicated stitches, final result & variations of colors combinations.
STITCHES (US TERMS):
magic ring (circle), sl st (slip stitch), ch (chain), dc (double crochet), dctog (double crochet stitches together)
APPROXIMATE SIZE:
Granny Square Meadow of Flowers is:
length 14 cm (5.5 in)
width 14 cm (5.5 in)
YARN AND HOOK
The samples of Meadow of flowers pattern are created using following yarn:
Multi-color yarn Angora Print (Iceyarns) – fine weight/fingering/sport/4-ply, & hook size 4 mm (G).
Solid colors yarn – Red Heart Super Saver Solids – an Aran (heavy worsted) weight, hook size 4 mm
You can use any yarn & hook you like that suits your project. For the next project (if I make any) I would choose some gradient yarn 😉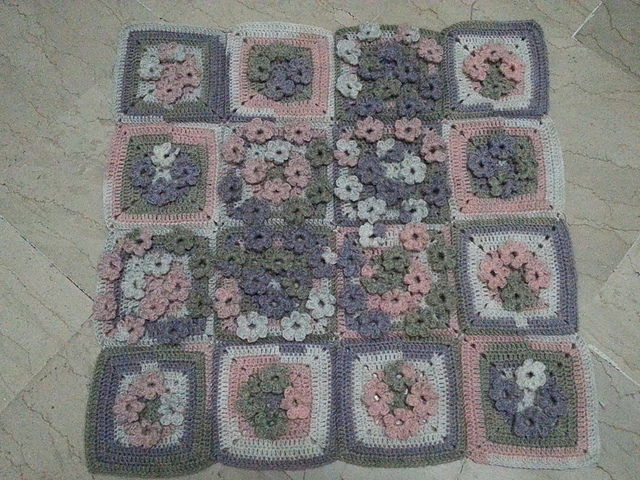 What does our team think of this pattern
Meadow of Flowers a beautiful and stylish square/block that I'm sure you're gonna love, this amazing piece will decorate your pieces together with a stylish and cute look that I'm sure you're gonna love, believe me. This beautiful project can be used on several occasions, it will amaze your clients who will surely want one as well, which will help you a lot.