Multicolored Crochet Bag an indispensable accessory for all women This model is classic and elegant and looks good for all types of looks and events, which is great and helps a lot. Whether day or night, the bag completes the style and this bag is perfect. Delicate and with a touch of charm this bag model is incredible and very charming. For those who work with handicrafts, the variety of products is very important and this is another option for sales due to its air of exclusivity.
Making an accessory like this bag is always a great pleasure and also brings a lot of joy for being able to make something as beautiful and charming as that. This beautiful bag is easy to make and can certainly become one of your products for sale in the summer season where women dress with greater ease and lightness and the bag helps to complete the look.
Its size is perfect for those who like medium and simple bags. Thank you for visiting our website. We always try to bring the best for you. Really a delicate and very feminine bag model candy that will find everyone!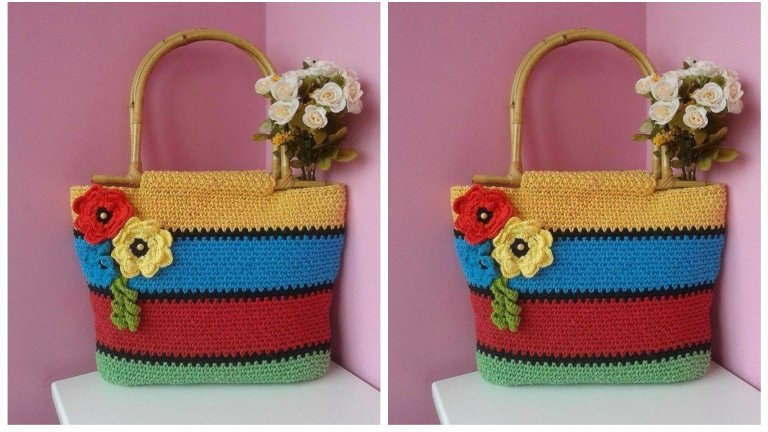 Abbreviations
ch= chain

ch(s)= chains

hdc= half double crochet
sc= single crochet
Step 1
Round 1: Chain 42 (40 + 2 for turning chain)
Step 2
Round 1: make 2 hdc in the 3rd chain from the hook (the two chains that you skipped are your turning chain)
Step 3
Round 1: make 2 hdc in the next chain. Add a stitch marker to the LAST of the four hdc you made. You should now have four hdc.
Step 4
Round 1: hdc once in each of the next 36 chains (you will have two chains remaining)
Step 5
Round 1: make 2 hdc in each of your last two chains and turn your work (picture shows work already turned). You will now work in the BACKSIDE of your chain(s). Add a stitch marker to the FIRST of the four hdc you made.
Step 6
Round 1: You are now working in the backside of the chains. We are going to repeat what we did in the front of the chains. Make 2 hdc in each of your first two backside chains. Add a stitch marker to the LAST hdc made (this stitch marker is NOT in this photo but can be seen in the photo for step 7)
Step 7
Round 1: hdc once in each of the next 36 chains (you will have two backside chains remaining)
Full Pattern With Images: Multicolored Crochet Bag