Sheep Granny Square Blanket
Sheep Granny Square Blanket is a perfect piece for the coldest days and that can keep us warm when we are watching that beautiful movie on the sofa. Comfortable and beautiful is very easy to make. The crochet blanket suggested here is in these wonderful colors, but the choice of colors is up to you and according to your decor to make the environment very cozy. For cold days, the blanket used on the sofa, in addition to completing the decoration, is a perfect accessory to warm up while watching that favorite movie.
Square is simple to make and with few materials and colors can be suitable to please you or the customer who ordered the piece. If you wish, make a piece for each member of the family so that everyone can decorate their rooms and stay warm. And this is also a nice piece for sales during the winter period.
The blanket is often used to highlight the decor and on colder days can be used to warm up during a good movie. Sheep Granny Square Blanket a beautiful blanket to add a touch of charm and elegance to your sofa or bed.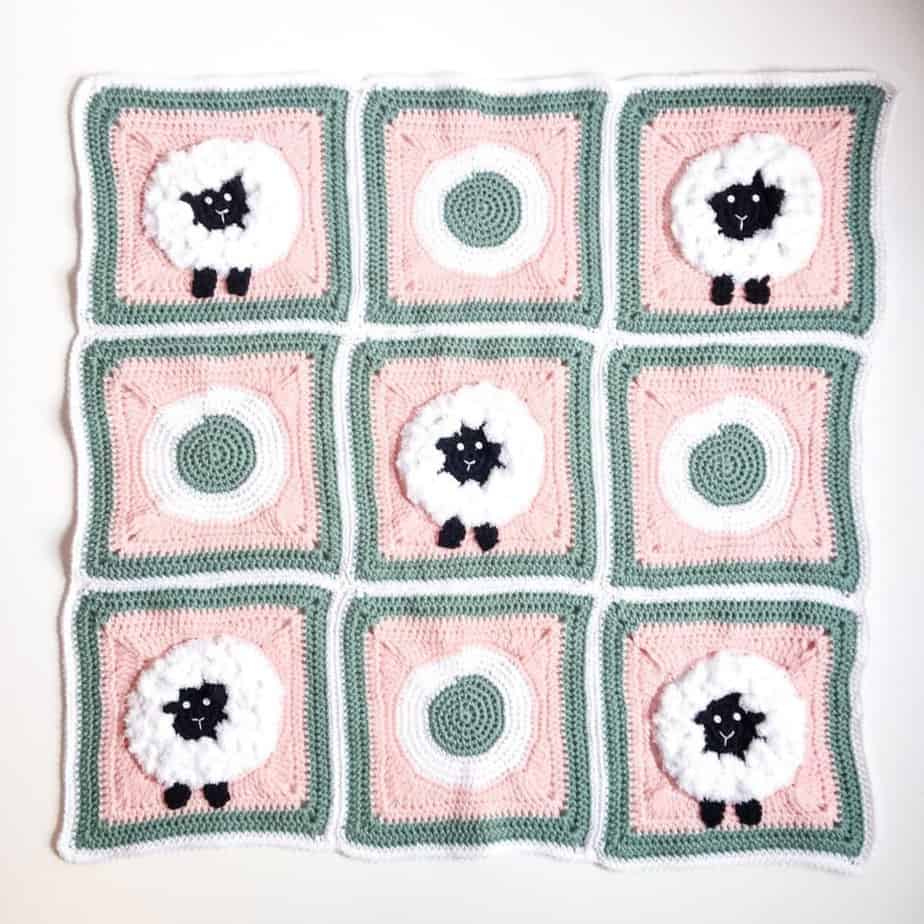 Sheep Granny Square Blanket
Pattern/Tutorial/Images: Nana's Crafty Home
This square actually starts out as a circle and then that circle is squared once the body of the lamb is complete. Once the square is complete you will come back with your fuzzy yarn and work in unused front loops creating the rounds of fuzzy sheep body. The ears and legs are crocheted separately and then sewn to the square. I used embroidery thread to embroider the lamb's mouth & nose as well as sewing on the small buttons for his eyes.
The buttons are completely optional and you could certainly embroider them on if you were gifting this blanket to a baby. The 12 square blanket has plain circle grannies included but you certainly could have 12 sheep squares instead if you wished. The sheep square would also make a great pillow!
Once the squares were sewn together I crocheted a very simple and basic single crochet border around the outside edge. However, you could certainly add a different border. I love using Yarnspirations' Red Heart With Love – it is so economical yet soft with so many color options available! And I just love these lovely soft colors together. I wanted to add some 3-D texture to my blanket so I used Bernat Pipsqueak as the sheep's fuzzy body. This makes the blanket so soft and I think kids are going to love running their hands over this super squishy yarn!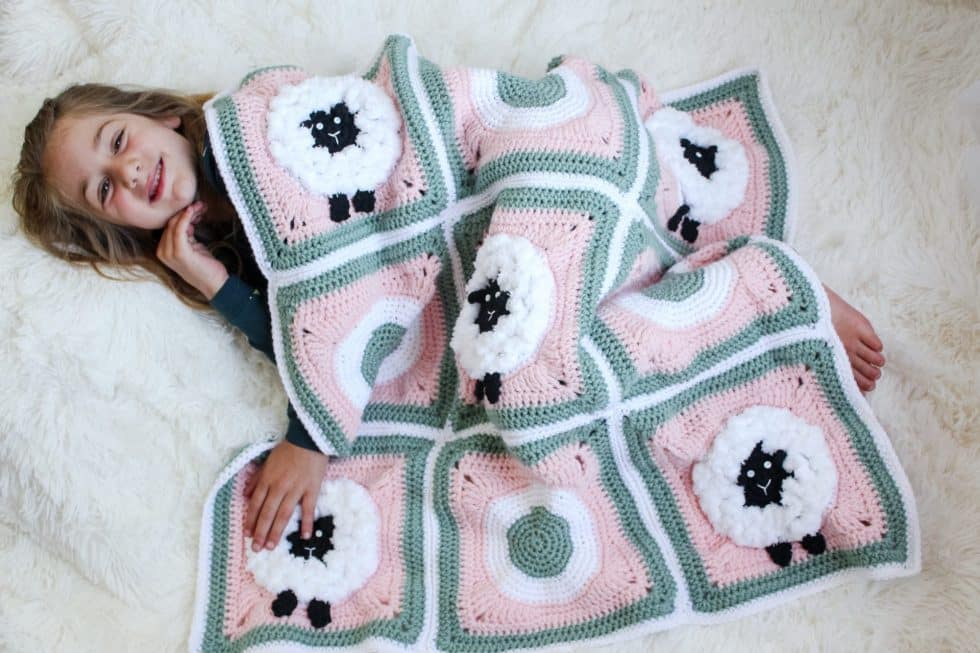 What does our team think of this pattern
Sheep Granny Square Blanket, an amazing blanket that can be used as part of your decor, you will definitely love the beautiful touch this piece will give to your environment, it will help complementing your decor and with a beautiful different touch and stylish. This beautiful project can be used on several occasions, it will amaze your clients who will surely want one as well, which will help you a lot.