Sunshine Crop Top a beautiful piece to make the most of the arrival of summer and walks on the beach, shopping and on several occasions on weekends with family and friends, above all, showing all the beauty of this amazing and stylish work. A trend that all women like a lot, since it is very comfortable for hot days and with that, it cannot be missing in the wardrobe as it is essential. Every year at this time, the cropped top has become a necessary piece, as well as a cozy one.
A Sunshine Crop Top that you will do with the leftover lines you have at home, as well as string if you prefer. With the arrival of the warmer climate, the demand for this job is immense, so, enjoy and show the news to your clients and friends who will surely love it.
Several times we make pieces that are left over from the line and we don't know what to do, finally, it's time to take advantage of them and promote this beautiful crochet piece if you want. Very simple and usable, besides, it's a charm to go out.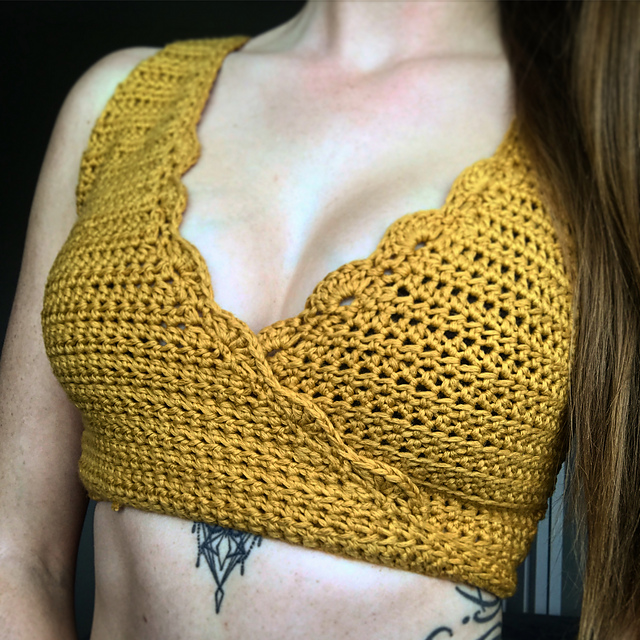 Sunshine Crop Top
Full Pattern/Images/Tutorial: Katey Trip
Yarn weight
Aran (8 wpi) ?
Gauge
14 stitches and 14 rows = 10 cm
in HDC
Hook size
4.5 mm
Yardage
350 – 432 yards (320 – 395 m)
Sizes available
small
Crochet terminology
US
This sleeveless crop top is perfect for summer. with two front panels that wrap around the body and tie at the back, it is a cute and flirty option to wear with your favorite shorts. this pattern is a size small and fits a b-cup bust with bra underneath. i used a weight 4 cotton blend yarn (loops & threads "cotton cream" in mustard) and a 4.5mm crochet hook. one skein of this yarn (432 yards) was more than enough.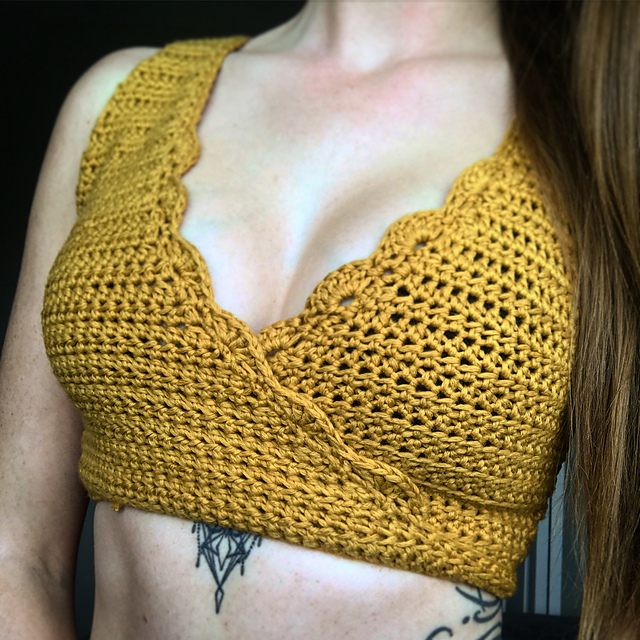 What does our team think of this pattern
Sunshine Crop Top, a beautiful and perfect summer piece, believe me you will love this piece, it will give you an amazing look that you will surely love. This beautiful Project can be used for various occasions and will amaze your customers who will definitely want one to assemble their looks, which will help you a lot.