Aunt Lydia's Autumn Tones Table Runner
Aunt Lydia's Autumn Tones Table Runner makes your decor even more charming and ready to receive guests! In addition to being very delicate, this item can be used on any table format, whether round, rectangular or square. With that in mind, we share here this beautiful crochet work that is very romantic and exclusive for you to innovate in your reception. Remember to prioritize the harmony between the colors of all the elements that will make up your table set, such as the table path, napkins, napkin holders, crockery and cutlery.
Choose the best color you choose to make this beautiful crochet piece. They are towels, which can be worked in knitting, crochet, fabrics, felt, in short, there is an infinity in which table rails can be found. Perfect for decorating not only the kitchen table, or the dining room table, or the pantry, but the counters and cupboards in the house as well.
It is also known as a table rail, and a practical and very charming option to perfect your combination and leave your guests surprised with creativity. It is no longer just the decoration of the empty table and in everyday life to be used as another highlight for your party table.
Aunt Lydia's Autumn Tones Table Runner
Pattern/Tutorial/Images: Yarnspirations
What you will need:
AUNT LYDIA'S® Classic Crochet
Thread, Size 10: 1 ball each of
310 Copper Mist A, 661 Frosty
Green B and 420 Cream C; 2 balls
131 Fudge Brown D
Susan Bates® Steel Crochet Hook:
1.7 mm [US 5]
Yarn needle, heavy spray starch
(optional)
GAUGE: Motifs measure 2¼ x
2¼" (5.5 X 5.5 cm), CHECK YOUR
GAUGE Use any size hook to
obtain the gauge given.
AUNT LYDIA'S® Classic Crochet
Thread, Size 10, Art. 154 available
in white & ecru 400 yd; solid color
250 yd; shaded color 300 yd balls
Table Runner measures 14¼ x 36¾"
(36 x 93.5 cm)
SPECIAL STITCHES
FPtr (Front post treble crochet): Yarn over
(twice), insert hook from front to back to front
again around the post of next st, yarn over,
draw yarn through st, [yarn over, draw yarn
through 2 loops on hook] 3 times.
note
Runner is made up of 75 motifs worked in 5
strips of 15 motifs each and joined together
while completing last round of each motif.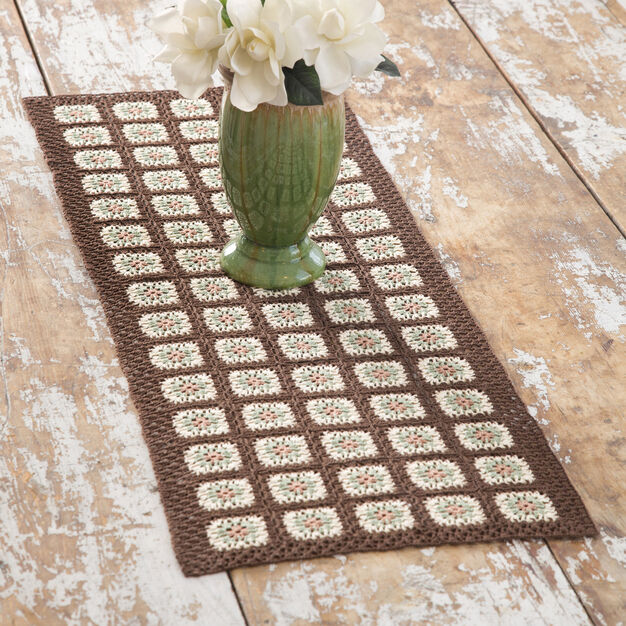 What does our team think of this pattern
Aunt Lydia's Autumn Tones Table Runner, an amazing table runner to change the style of your table, I'm sure you will love the result this piece will have as it will give your table a new touch that is very beautiful and charming. This beautiful project can be used on several occasions, it will amaze your clients who will surely want one as well, which will help you a lot.