Crochet Baby Cardigan With Bobble Stitch
Crochet Baby Cardigan With Bobble Stitch, perfect for giving your little one a very charming look. This beautiful piece is very charming and can be used to accompany different looks of the baby. It's the kind of work you can do with the art of crochet these days to wrap yourself up with creativity, art and love. And always being concerned with having new models and options at hand that please everyone can help. This beautiful Crochet Baby Cardigan With Bobble Stitch will surprise you !!
This Cardigan is perfect for wrapping up your little one on that special outing, where he will look well dressed and look cute and charming. Comfortable this Baby Crochet Cardigan is ideal for days that start to get cold especially during the afternoon and morning. The colors are up to you, choose the one that best matches your little one's wardrobe.
This beautiful piece can be made in the most diverse colors and thus be a beautiful option to present to your customers who are sure to love this beautiful cardigan. During the hot or cold season it is important to be prepared with news to please your customers and increase your monthly income.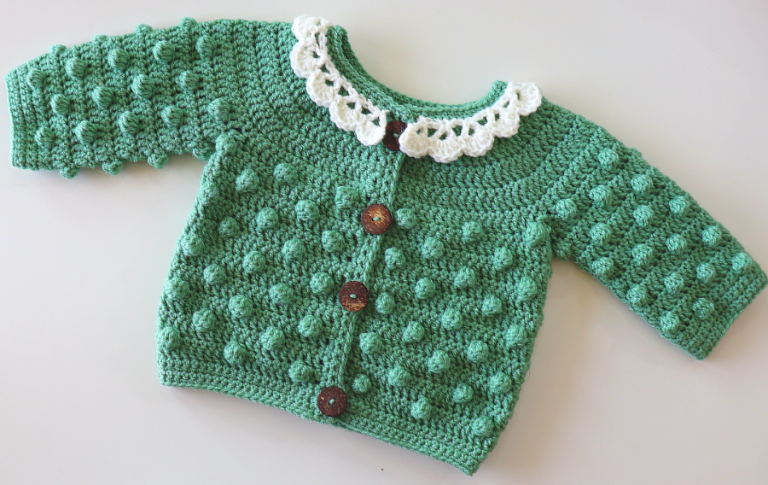 Crochet Baby Cardigan With Bobble Stitch
Pattern/Images/Pattern: Sirin's Crochet
MATERIALS
Yarn
Basket Yarn – Green (light worsted, need a little more than one skein)
Utopia Classic – White (or can be any yarn in the same category with main one)
4.5 mm and 5 mm Crochet Hooks
4 Buttons
Yarn Needle
Scissors
STITCHES & ABBREVIATIONS
ch = Chain
st (s) = Stitch (es)
sl st = Slip Stitch
yo = Yarn Over
sc = Single Crochet
fpsc = Front Post Single Crochet
dc = Double Crochet
bo = Bobble
FULL PATTERN ON THE AUTHOR'S WEBSITE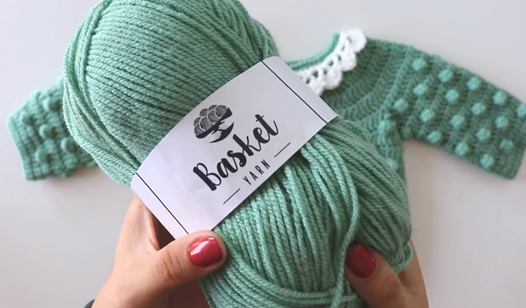 What Do We Think About This Pattern
An amazing Crochet Baby Cardigan With Bobble Stitch that will make your little one incredibly cute !! It will be easy for you to do this beautiful work if you follow the tutorial correctly because this piece has a very stylish result, with incredible colors that give a cute and charming look to your little one that will delight everyone !!