DIY Baby Blanket – Free Pattern
Hello beautiful! Today we are going to learn how to make a baby blanket, simple, easy and very fast. If you still don't have sewing practice and are unsure about trying new patterns, come with us to learn this pattern and gain even more experience. The DIY Baby Blanket is the perfect model to make for your baby, to give as a gift or to sell.
Baby blankets are essential items in all layettes. If you have a baby, you know how important these items are. We use it almost every day, so we often need more than one. After all, when one is dirty, we need another to cover our babies. The DIY baby blanket is made with flannel. This fabric is very soft and warm, perfect for those colder days.
If you want to make a lighter blanket, choose thinner fabrics. As the blanket is for babies, when buying fabrics, choose one that is soft to the touch. Babies are more sensitive, their skin can irritate more easily, so double care when buying. As for prints and colors, choose the ones you like the most. You can match the room colors, the decor theme.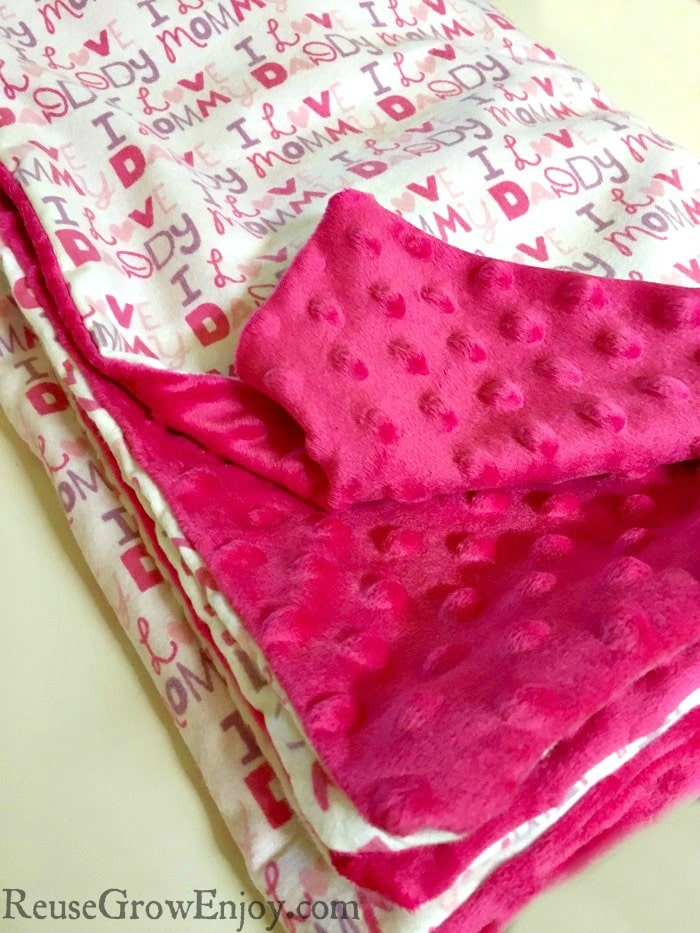 Image / Pattern / Tutorial: Reuse Grow Enjoy
DIY Baby Blanket Materials Needed:
1 1/2 yards Cotton Flannel Fabric
1 yard Minky Dot Fabric
Thread to match fabric
Extra fine Pins
Scissors
Sewing Machine
There are many options in stores, it is normal to be confused when choosing. I always take a long time, there are so many options that I want to take a little of each one. The pattern is available from Reuse Grow Enjoy. The footage, materials list and sewing instructions are described and with photos to help you.
It's always good to have the photos to check if everything is going right. It's a simple model that looks really nice. We hope we have inspired you and made you want to start sewing right away. Let's do many beautiful things to make our house always beautiful. Did you like it? Tell us here!