Pippi Basic Girl Doll – Free Pattern
Hi loves! We hope you are having an amazing week out there. Did you manage to set aside time to crochet? If not, with the pattern that we will learn together, you will want to start today. Pippi basic girl doll is incredible, a very cute and charming model. And yes, it is all crocheted. One more amigurumi pattern you still need to learn. So stay here with us to have access to all the information for free.
Amigurumis are here to stay. There are many amazing models we have out there. The Pippi basic girl doll is that piece that is amazing to decorate the little ones room. Whether as a decoration item, or leave it on the bed, so they can play too. If you still don't crochet, you can try starting with this pattern too. Sometimes we fall in love and we already want to crochet.
What we recommend every time is to read the step by step at least once before starting for real. You will understand the stitches and pauses during the project are getting rarer and rarer. Another very interesting thing is that it is made in parts. So you don't need to be in a hurry to finish. If you only have one hour to spare, pick a part, hair, legs, body, and do it. You will see that soon you have all the doll ready, just assemble.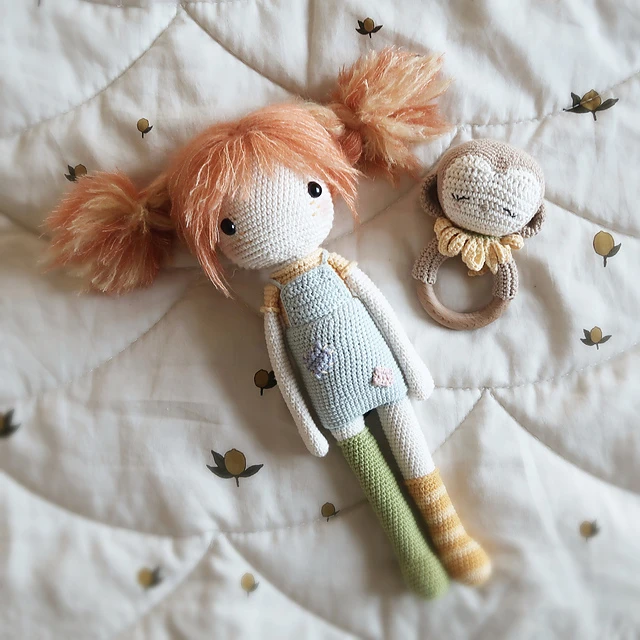 Image / Pattern / Tutorial: Ravelry
As with other crochet pieces, you need few materials. Cotton yarn, crochet hook, yarn needle, scissor, stuffing, safety eyes. Remember to sew the eyes very well, especially if the doll is for children. This toy is crocheted in spiral, where you don't join the rounds. The patches on the dress and the dress flap is crocheted in rows. Following the step by step you will have a pippi of approximately 38×11 cm.
But if you use other types of yarn or hook size than stated here, the size and look of the toy will vary. Let's start? The pattern is available on Ravelry. You can download the pdf and keep it with you. Access whenever you have any doubts, that you forget what the abbreviation means. But remember that if you have any doubts we are here to help you. Shall we crochet? Tell us what you think here in the comments.