Sunflower Square Blanket Crochet
Sunflower Square Blanket Crochet with a beautiful stitch filled with flowers that has a wonderful and perfect final result to leave the environment incredibly charming. With a beautiful tone, it is a perfect piece to decorate the room as it has these beautiful colored Sunflowers. Comfortable and beautiful is very easy to make. Crochet is very useful for decorative pieces that complete the look of the house with comfort, leaving everything very elegant, like this work for sofas and beds of all types.
This beautiful decoration for sofa and bed has been used a lot nowadays and is already part of the decoration. Use your creativity and make beautiful pillows to match the blanket, so you can use everything together to complete your decor with a beautiful touch. This can be a nice gift for someone who likes it a lot.
Perfect to complete your home decor. Blankets are a very stylish and creative way to decorate as they are a versatile item. With a beautiful color, it is a perfect piece to decorate the environment as it has neutral colors. Comfortable and beautiful is very easy to make.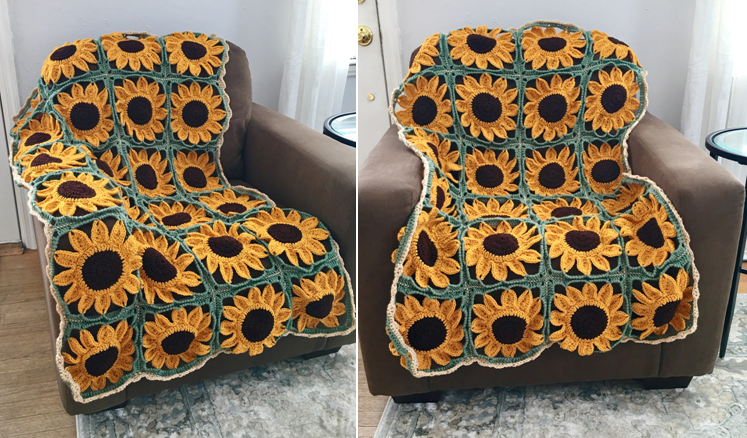 Sunflower Square Blanket Crochet
Full Pattern/Images/Tutorial: Crafty Kitty Crochet
Supplies
Size H/8 5.00 mm crochet hook
Red Heart Super Saver in:
Gold (3 skeins / 950 yds)
Coffee (1 skein / 360 yds)
Light Sage(1 skein / 360 yds for squares with green edging)
Buff (1 skein / 160 yds for blanket shown with green square edging / beige border)
Aran (2 skeins / 520 yds for squares with cream edging)
Yarn Needle
Scissors
Abbreviations
*= indicates the start and end of a section that is repeated
BLO = back loop only
Ch = chain
Dc = double crochet
FLO front loop only
Hdc = half double crochet
rep = repeat
Rnd = round
Sc = single crochet
Sk = skip
Slst = slip stitch
Sp(s) = spaces
st = stitch
Tr = triple crochet
Gauge
3 dc across = about .75 inches; 2 rnds of dc = about 1 inch in length
Size
One square measures about 10 inches square (about 9 inches square when assembled into afghan)
Notes
Chains do not count as stitches in the stitch count throughout the pattern.
Square will initially curl upwards while you are crocheting it; this can be adjusted by stretching the square considerably when finished (pulling from corners outward until piece lays flat). In Rnd 7 of Sunflower Square, you may wish to chain 8 instead of 7, if your work is curling too much.
Throw blanket in this pattern consists of 24 squares (4 across, 6 down). Blanket size can be adjusted by adding/reducing number of squares.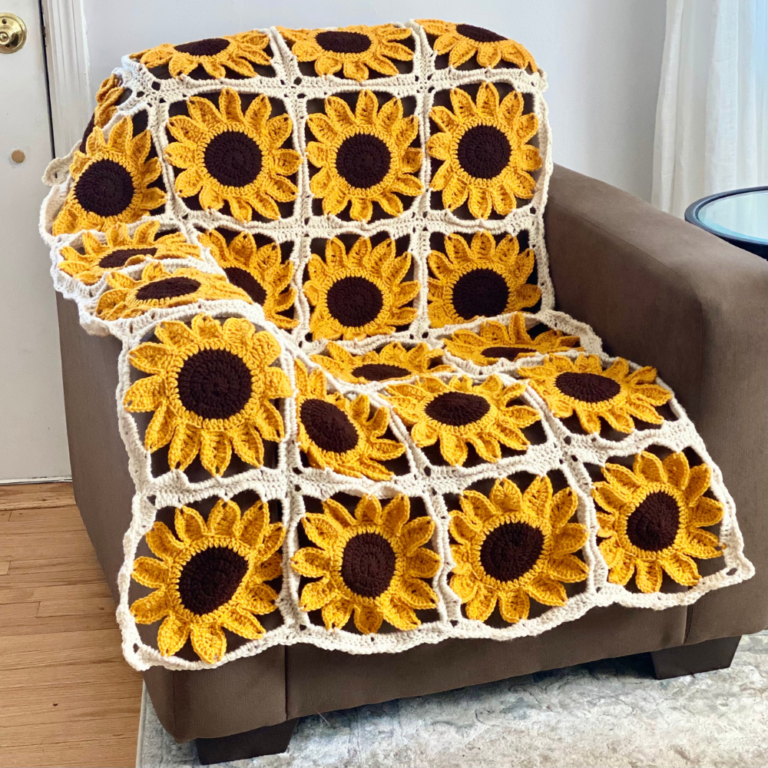 What does our team think of this pattern
Sunflower Square Blanket Crochet, a beautiful blanket that will decorate your room in an amazing way, with a beautiful flowery look and that is easy to do with the tutorial we brought you today that I am sure you will love. This beautiful Sunflower Square Blanket Crochet can be used for a variety of occasions and will amaze your clients who will definitely want one.