A Wedding Quilt – Free Pattern
Hello loves! Today we are going to show you how to make another quilt pattern, after all quilts are never too much. The Wedding quilt is a very beautiful pattern, full of charm and love. All colored, the white background highlights the pattern formed with the colored strips. That's right, to make all these details that form hearts in the quilt, you will only need strips.
Look how perfect it looks in bed, it gives a cozy, charming touch. And who doesn't like a well-made bed? There is nothing better than arriving at the end of the day, after a productive day and resting in a beautiful bed like this. As most of the quilt is white fabric and the rest is colored and with prints, I always like and recommend washing the fabrics before starting.
Some strong colors and colorful prints loosen some of the excess ink in the first few washes. When the fabric is already together with a lighter color, it is common for the paint to end up smearing a little, so wash it before sewing. Once dry, iron the fabric to make it straight and facilitate both cutting and sewing. To make the markings for the measurements to cut, use the wrong side of the fabric.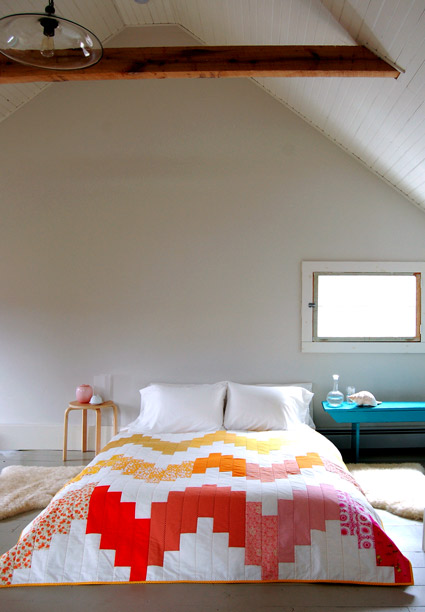 Image / Pattern / Tutorial: Purl Soho
A Wedding Quilt – Free Pattern
If something happens and the mark doesn't come off, you won't lose that fabric, when assembling the quilt, it won't show. Check out the pieces the pattern calls for to assemble the entire quilt. Assemble the quilt to make sure everything is complete and then start sewing. This prevents you from missing something at the time of production, you won't have to run out to buy more materials. The wedding quilt pattern is available at Purl Soho, with step by step, diagrams, measurements and suggestions.
Take the opportunity to do with the colors you prefer, what is in the pattern is just a suggestion. Use creativity and match colors with the decor of the environment. May this pattern inspire you to keep sewing and creating beautiful pieces. Be very proud of your work, it is unique. Anyway, tell us the suggestions and what you think here in the comments, we will be very happy to be able to read everything.