Hearts and Bows Baby Afghan – Free Pattern
Hello girls! Another day, another beautiful pattern for us to learn and put into practice. Today we are going to learn that blanket that needs to be in the babies' layette, the Hearts and Bows baby afghan. It is a very beautiful and delicate pattern. Throughout the rounds, several hearts are formed. It's that perfect baby afghan that will make your little princess look precious.
Crochet is a very versatile technique, which you can do with few materials. For this pattern, you will need yarn, crochet hook and yarn needle. These are materials that last a long time. As much as there are many numbers of crochet hooks, you don't need to buy several at once. Buy according to the patterns you are going to make and following the yarns' instructions.
Choose the yarns of your choice, colors too. When we make baby items, we always need to be careful when choosing yarns. They can't be rough, which can cause allergies in little ones. Several brands have a line for babies. These options are usually anti-allergic, best for little ones. Got a baby shower to go to? This pattern is a great gift option, it's beautiful and very useful with the little ones.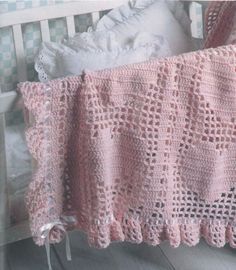 Image / Pattern / Tutorial: Leisure Arts.
In addition to being a great way to promote your work and gain more practice. If you don't have much practice yet, don't be afraid. By understanding and following the instructions, it will not be difficult to complete the afghan. The hearts and bows pattern is available from Leisure Arts. The pdf is available for you to download and have available whenever you need to ask any questions.
 In addition to the step by step, you have access to yarn suggestions, special stitches, abbreviations that are used. We hope you get excited and inspired by this pattern. Practice a lot, sell and have it for you. Be proud of the beautiful pieces you produce, we are very happy to know that you are evolving and creating more and more. Have a great weekend, we'll be back next week with lots of patterns!