Fast Flowers Twin-Bed – Quilt Pattern
Looking for a colorful and beautiful quilt? We found it for you, the Fast Flowers Twin-Bed Quilt. This pattern has a very clever assembly. You choose a print that has flowers, but the design cannot be small, it has to be flowers that are the size of a block. From the print, you choose the colors that will compose the rest of the quilt.
Bet on bright colors, which draw attention, but also highlight the flowers. Because it's very colorful, it's a little easier to make combinations, almost all colors fit the design. If you check out other patterns that we posted here, you will learn how to make pillow covers. Enjoy and make a cover with one of the colors of the prints.
You will see how the environment will be super cheerful, that's what colors do. There are environments that require more discreet colors, but this is not the case with this quilt. Here, the more vibrant, the better. Usually, children's and teenagers' rooms ask for this energy, so take a chance on the colors they like the most too.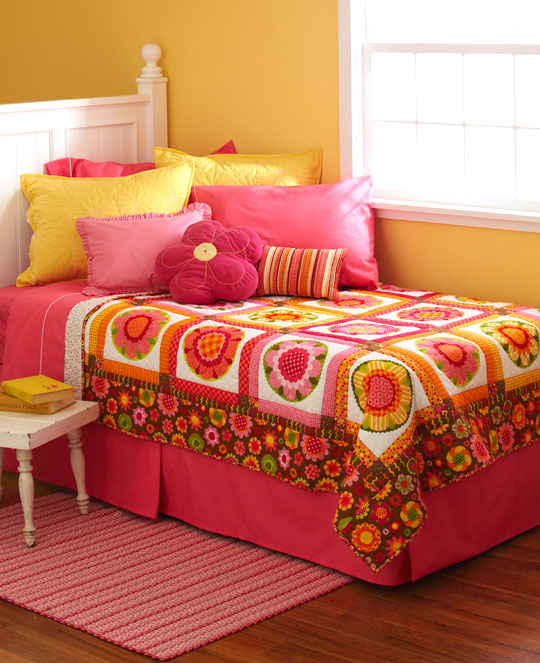 Image / Pattern / Tutorial: All People Quilt
Wash everything before you start cutting and assembling the quilt. Don't forget to iron the fabrics, this will help you a lot when cutting, the risk of the cut getting crooked is much smaller. The complete Fast Flowers Twin-Bed Quilt pattern is available in the All People Quilt.
There you have everything you need, measurements, fabric recommendations, diagrams and assembly step by step. Perfect pattern to make for yourself or a gift for someone you love. Don't forget to tell us here in the comments how it was to make this quilt, how the gifted person received it. We're here ready to bring you more patterns for you to keep rocking the quilts!