Fast & Fusible Daisy – Quilt Pattern
Hey! Another day, another quilt technique and pattern for us to learn, and now it's Fast & Fusible Daisy. This quilt is very beautiful, colorful and cheerful. Perfect for the children's room, playroom. In this quilt you make blocks, but you also need to sew appliqués, made by you too.
The fabrics you are going to use to make the appliqués should also be washed to remove excess dye from the fabric. If you're new to quilting, practice cutting first on any scraps you have lying around. Rounded and smaller cuts, like flower petals, take a little more work to come out just right. Nothing too complicated, believe me.
We only recommend training first, so you don't run the risk of cutting wrong or wasting the quilt fabric. In one pattern, you will learn three different flower models. Take the opportunity to save the available molds, so you can apply them to other pieces. You can make pillows to complement the decoration of the environment, make other colors and use in other decorations.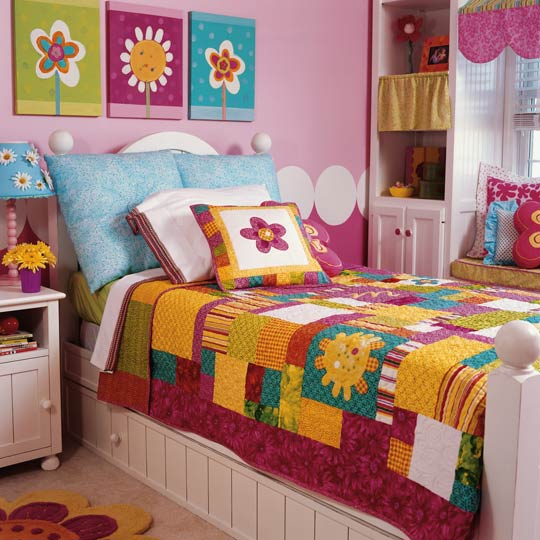 Image / Pattern / Tutorial: All People Quilt
Anyway, appliqué molds are never too many. Once you have all the cutouts done, assemble the flowers and quilt once before starting to sew. That way, if something is missing, you already cut and complete before starting.
All of this will be available in the fast & fusible daisy pattern, on the All People Quilt website. Measurements, color suggestions used in the pattern, diagrams with the assembly step by step. I'm sure the little ones will love seeing their room so decorated and full of life.
Gift loved ones with pieces made by you. It is a more personal gift that conveys all your affection and attention to her. Don't forget to let us know what you think of this pattern, we love to read everything here!