Home for the Harvest – Free Quilt Pattern
Hello loves! How is your week going? We hope you are able to create a lot of beautiful things, but without charging yourself too much. You know that here we always share beautiful patterns, most of them available for free to help you become more and more expert. Today we separate a quilt, Home for the Harvest. This quilt is full of details, but really full. In the photos you can see that it is like a city, a village.
Full of houses, this quilt will be amazing and brings a very beautiful scenery. Some blocks are different from others, that is, you will learn more from a different model. In the blocks you can have more than one house or not. The coolest thing is to pay attention when assembling to make sure that two identical blocks won't be next to each other.
We can't say that this quilt doesn't work, because it does and demands a lot of your time. but you don't have to finish it in a weekend. As it is made in blocks, we recommend that you learn one at a time. You will need approximately 36 blocks to have a quilt measuring 73×70″. Several of them are repeated, often with different patterns and colors. Once you learn the first one, you will be able to assemble the next ones more easily.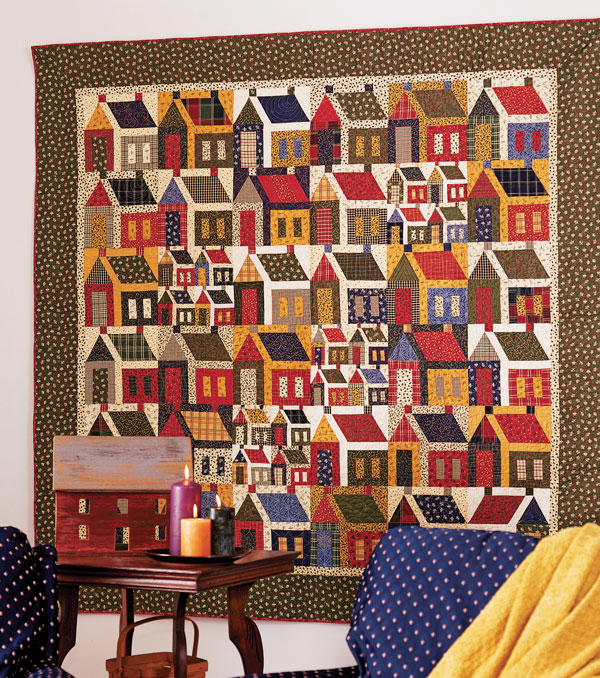 Image / Pattern / Tutorial: All People Quilt
As the sizes of the cutouts are small , you can reuse scraps left over from other projects. If you need a slightly larger quilt, you can increase the number of blocks or increase the size of the border. Before sewing the quilt, you can assemble the blocks and make the best ones combinations. It seems difficult, but all the work is rewarded when you put such a beautiful quilt to decorate your home. If you sell, put a fair value. You did a lot of work, appreciate it.
The complete pattern of home for the harvest It's available at All People Quilt. The list of materials, the measurements, the cutting and sewing step by step, in addition to the diagrams are there. As anxious as you may be to get started, I read the pattern a first. th time. You will see how it becomes easier to understand and follow the steps after we have a basic idea of ​​what is being asked. We are very happy to have you here with us. Let's quilt!