Racetrack Play Rug – Crochet Pattern
Hi my loves! It's been a long time since we last appeared here. What did you do during those days? We hope you enjoyed it and left some time to practice. You can do crafts to relax. Many people see it as a form of therapy. Come crochet with us, let's learn how to do racetrack play rug. This rug is not only amazing, it will be a big hit with kids. The crochet rug is one of the most classic pieces of this technique.
Used in many different environments, it brings more warmth and makes the place more decorated. In kitchens and bathrooms, in addition to decorating, they serve to absorb the water that can fall on the floor. But this one is different, a race track. If you still don't have one in your house, how about making this one to cheer up the kids? It's an easy pattern to make, with basic stitches and easy-to-find materials.
To make this rug you will only need three colors. You don't have to follow exactly the colors that the designer chose for the project. What you should take into account is the color difference between the track and the rest of the mat. The track has to be highlighted so the children can see and play from there. As for the size of the track, the designer has already made the pattern so that more than one car passes and the children can play together.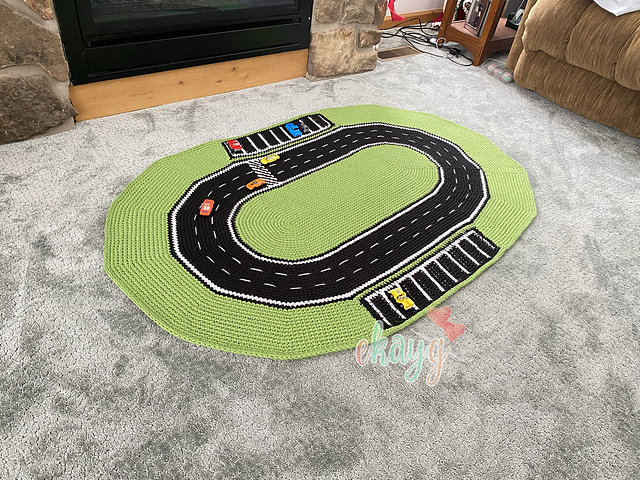 Image / Pattern / Tutorial: Ravelry
Measure the space you have available in the playroom or children's room and see if the size of the rug fits. Anyway, make the necessary changes, it wouldn't be difficult. Kids will love it because it's simple to carry the racetrack play rug anywhere you want. You can fold it and it's not heavy, the perfect pattern. Whether to sell, for yourself or to gift a family of friends, success is guaranteed.
You will find the pattern on Ravelry. If after reading everything you have any doubts, come talk to us. We hope you enjoy all the tips in the pattern, all the steps. Then don't forget to come back here and tell us what the kids' reaction was. We are already looking forward to your feedback. Let's crochet!