Summer Floral Floor Cushion – Free Pattern
Hello everybody! Another day, another amazing pattern to share with you. Every day a different craft pattern for you to learn and get inspire to keep creating. Today we are going to make the summer floral floor cushion. We fell in love with this cushion. It is a large pattern, a cushion that can complement the decor of many environments.
You can place it in a corner of the room, make a space for reading, to lift your feet. This pattern is very popular with children. You can do it with the colors of their room decor. Leave a comfortable space for them to play, softer and cozy. As for the fabric colors you already know, choose the ones you like the most. In the pattern, prints and plain colors are used that complement each other and make a wonderful cushion.
You can choose a print and from it, combine the other colors. At first it may seem difficult to combine so many different colors. If you prefer, you can make the entire cushion with the same color, vary the tones. It will look very nice too, forming a gradient. But don't be afraid to take a chance on colors, the variety we have available today is there to help us.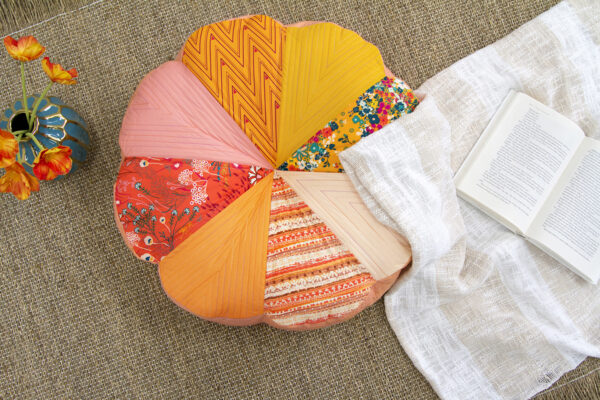 Image / Pattern / Tutorial: We All Sew
Materials to make the Summer Floral Floor Cushion:
Sewing Machine (I use a BERNINA 790 PLUS)
Quilting and Sewing thread
Extra Long Needle
Batting
Strong Embroidery thread
Fabric Scissor
Iron
BERNINA Reverse pattern foot #1C/#1D
Poly-Fil
Choose quality fabrics that make your piece more beautiful and perfect for longer. As for the rest of the materials, the list in the pattern gives you the indications. You can check the step by step with the photos that are available. The images help you to check, seeing if everything is right. The summer floral floor cushion pattern is available at We All Sew.
You will need a sewing machine to make this pattern. In addition, templates are available for you to print. You can increase and decrease the size, making several cushions of different sizes. Let your creativity flow and we're sure your cushions will look amazing. Let us know what you think, we'll be happy to read and hear from you.