Toddler Joyful Jumper – Free Crochet Pattern
Hello my loves! We hope all of you are well. It is always a pleasure to have you here so that together we can learn beautiful crafts. We are very happy to share patterns that really work and that are useful for you. The Toddler Joyful Jumper is a perfect model for you to make for kids. It's that outfit that you can adapt for colder days, put a long-sleeved blouse underneath, or for cooler days too.
To make this pattern, the only technique needed is crochet, amazing right? Crochet is already a well-known technique here, that with few materials, you make beautiful things. To crochet you basically need a yarn and a crochet hook. There are many crochet hook numbers, but you can buy as needed. Depending on the yarn chosen, a numbering is required.
Crochet pieces also last a long time. If the yarn is quality and basic care is taken, you will have a perfect piece for a long time. In the pattern you have several different sizes, for 2, 4 and 6 years old. The measurements are there and you can measure to see which one is most comfortable and suitable for your little girl.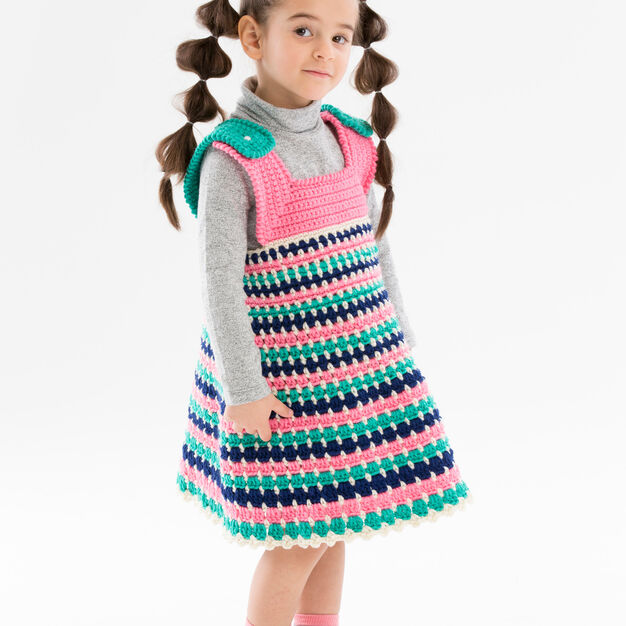 Image / Pattern / Tutorial: Yarnspirations
As for the colors, you can make it colorful as well as the pattern, choose only one color and make some details in another. There are a multitude of options, use your creativity and make the combinations that please you most. The toddler joyful jumper pattern is available at yarnspirations, with a list of materials, suggestions, measurements, step by step and diagrams.
You will make the Jumper is in 3 pieces: Front collar, back collar, and skirt. For the skirt, you will work in joined rounds, beginning by working across the lower edges (between corners) of the front and back collar. Did you like it? Tell us what you think and who you want to do it for. It will be a success, we are sure. Corche needle in hands, let's crochet!