Yip Yips Crochet – Free Pattern
Hi my loves! I hope you had a beautiful week, full of crafts and lots of practice. It's always a pleasure to welcome you here, to learn and share new patterns with you. Thinking about making things more fun and organized everywhere, let's learn a new pattern? Yip Yips crochet is very cool to do, you will have fun doing it. Crochet is a very old technique, versatile and there are many pieces that you can learn.
Thinking about organizing things in a more fun way, yip yips are colorful baskets with friendly eyes that will be a hit with children. You can make colorful baskets that encourage and encourage children to learn to store their toys. You can assign each color to a type of thing too. Choose the Yarns in the colors you like the most.
You can make everything even more colorful by making the fringes with other colors, mixing everything. If you want to put the basket on the floor, don't choose yarns that are too soft. They don't have enough structure to hold the basket. If you prefer hanging baskets on the wall, yarns don't interfere that much. As for sizes, if you need a deeper basket, increase the number of rows or decrease for shorter baskets.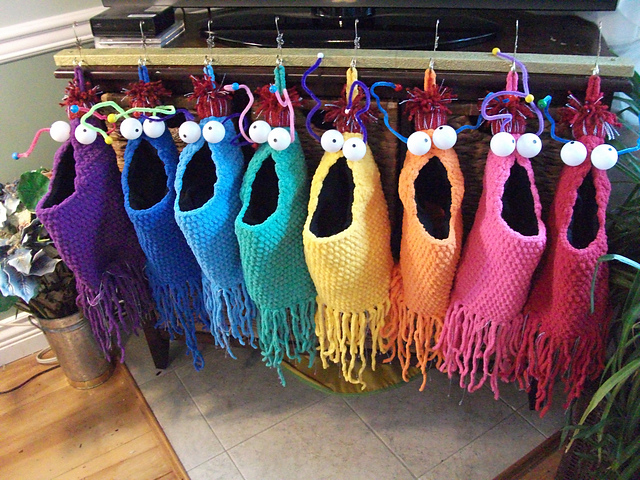 Image / Pattern / Tutorial: Ravelry
Crochet pieces are easy to change, with a little practice you will understand. Before starting to crochet, you need read the entire pattern and understand the stitches. Choose the materials you are going to use, separate them and only then start crocheting. The yip yips pattern is available on Ravelry and you can download it and save it to check whenever you need it.
Whether for you, to sell or to give to a dear person, success will be guaranteed. If you don't like the stitches, take them apart and try again. The important thing is not to give up, not to get discouraged. Gradually you will see your evolution, feel proud of each step. We wish you all a great weekend!