The Granny Square Crocodile Flower
Choose a color scheme for the The Granny Square Crocodile Flower . The lines, it stands to reason, come in a wide variety of colors. The colors you choose will modify the final appearance of your quilt, cushion or any other creation. Choose carefully the colors to achieve the effect you want. For a "gypsy" look combine red, dark purple, pink, yellow, bright blue and green leaf.
For a country look make squares with bright colors, but sew them with black wool. For a classic American look, combine white, red, blue and straw yellow. If you do not want a square look, but want to use the quick quilt method, use only two colors (white and blue, for example) for a more sober look.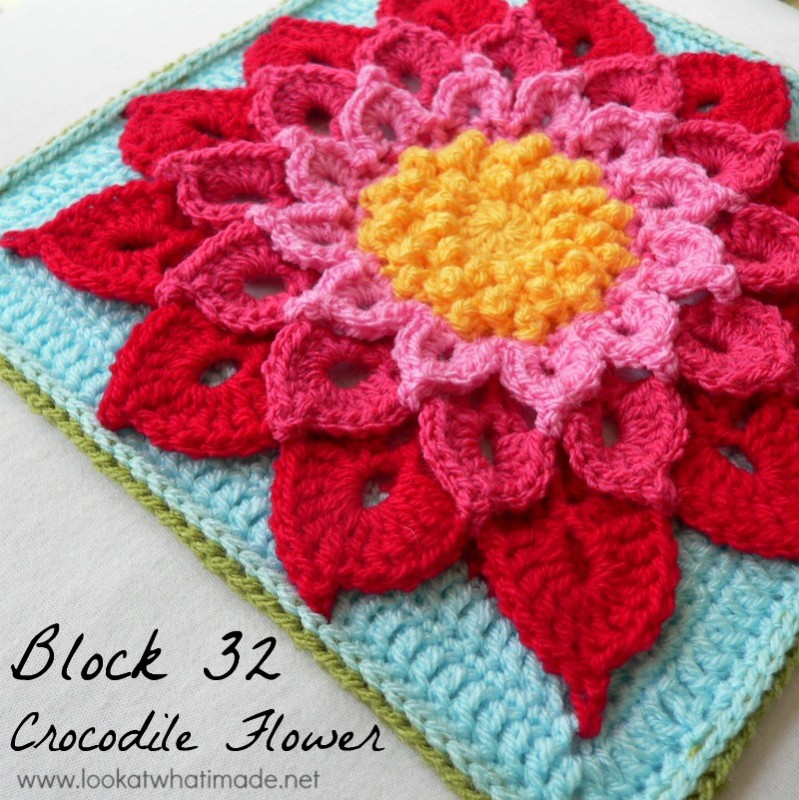 The Granny Square Crocodile Flower
Suggested Materials
4 mm Clover Amour Crochet Hook (US G/6 UK 8)
Worsted weight yarn
Size
Using the hook and yarn specified, your square should be a nice even 12″ when you are done. Joyce does say that she is a very tight crocheter, so your square might come out bigger!
Using a 4 mm crochet hook (US G/6 UK 8) and double knit yarn, as I have done, your finished square will be 8.5″ big IF you stop at Round 13 and leave out Rounds 14-17. Please note that you will still need to make Rounds 18-20, which form the crocodile stitch petals.
My Yarn and Colour Choices
I am using Stylecraft Special DK.
Saffron (Rounds 1-4)
Fondant (Rounds 5 and 20)
Pomegranate (Rounds 6 and 19)
Lipstick (Rounds 7, 8, and 18)
Sherbet (Rounds 9 – 13)
Meadow (Optional Round 14)
Special Stitches
Crocodile stitch – this stitch has a slightly different configuration in each of the 3 rounds it is used in. It is explained in each of those rounds.
Bubble stitch – the bubble stitch is made slightly differently in each of Rounds 2 – 4, but consists either of a (sc, tr) or a (sc, tr, sc).
Long double crochet
I know that in the house of those who make handicrafts there is always a lack of space to store paints, brushes, threads, wool and everything else that is used to make handicrafts. Here at home is like this, with plenty of imagination and lack of space to store a lot of trinkets, always with the excuse that one day I will need it.I have so many wool and threads that I keep in transparent boxes separated by colors. I have wool skeins stored more than ten years ago.
Free pattern: by >> is Joyce D Lewis' Crocodile Flower Square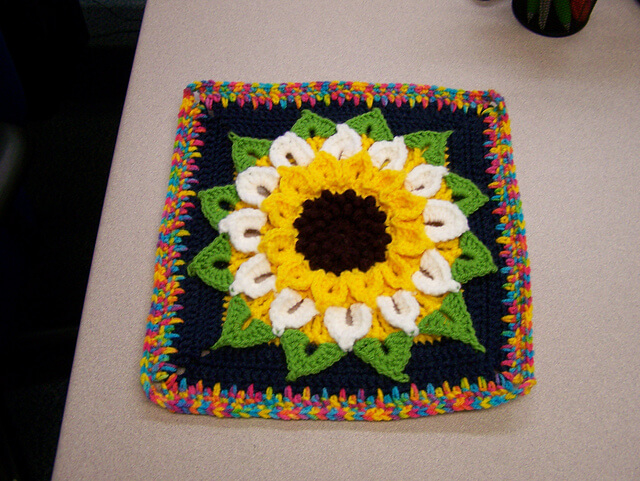 Another Wonderful Square Type! This unfortunately I do not have the most video tutorial you can find in Ravelry
Video tutorial very well explained by the Video Crocodile Stitch Granny Square
The Granny Square Crocodile Flower
But these days my sister told me that the women in her condo make crocheted crocheted squares to make quilts for needy people. Pay attention to what a great idea. Each one knits a square of the color and model you wish, but all the same size, previously combined between them. In their spare hours, each one does as much as she can crochet. In the end they come together, put these squares together, and make a quilt to give to poor families.