Autumn Star Spin Quilt – Free Pattern
Hi my loves! Ready for the weekend? If you are thinking of sewing a little, we have the perfect idea for you. Autumn star spin is perfect when applied to quilts. It is the main part of the quilt, which stands out the most and the rest can be done as you see fit. It's not a difficult pattern to make and it has a very interesting effect when finished. When colorful, with vibrant colors, quilts bring a lot of joy and stand out in the environment.
More sober colors look beautiful too, leaving the environment elegant and sophisticated. Take the opportunity to use your creativity in the combination of colors and prints. We know that at the beginning it is common to be insecure with the combinations, to know if we are really going to like the result. Over time, everything becomes inspiration and you will start to have new ideas to apply to quilts.
Each autumn star spin will be different, each combination will be unique. That's what's so cool about manual crafts, each piece is unique and personalized, no one will have the same. It is a great option for gifting to dear friends and family. No one can resist a well-groomed room, and for that you can make pillowcases that match the bedspread.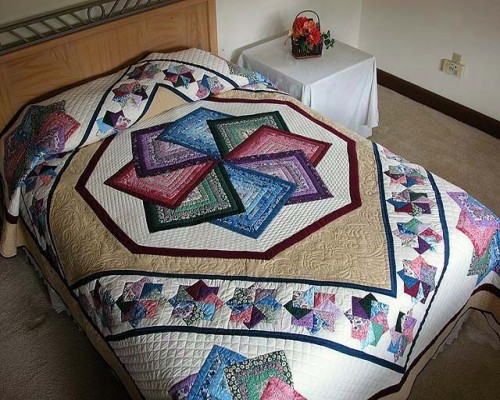 Image / Pattern / Tutorial: Quilting Board
The pillowcases don't need much detail, the highlight should be the bedspread. Make it with plain fabrics, in colors that complement the bed decor. The autumn star spin pattern is available on Quilting Board, with step-by-step photos. This makes it easier for you to understand and see how it looks at the end of each step. For me, photo patterns are the easiest to understand and follow.
It's always a great pleasure to see you here, looking to learn new patterns and crafts. Take advantage of the weekend to advance some cuts of the pattern. Don't forget to spend time with family and dear friends, there's no better way to recharge and get inspired to have a wonderful week. We wish you a great weekend and look forward to seeing you here, full of new ideas next week!